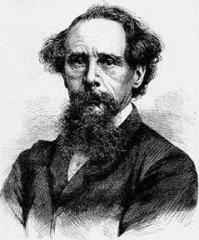 A collection of Dickens' early stories that had been published in
Monthly Magazine
,
The Morning Chronicle
, and other periodicals. The sketches provide delightful glimpses into life in early Victorian London. Illustrated by established artist
George Cruikshank
.
Dickens later wrote of
Sketches
:
"They comprise my first attempts at authorship. I am conscious of their often being extremely crude and ill-considered, and bearing obvious marks of haste and inexperience."
The grandest and most frequented booth at the whole fair, however, is the Crown and Anchor, a temporary ballroom we forget how many hundred feet long. The price of admission to which is one shilling. Immediately on your right hand as you enter, after paying your money, is a refreshment place at which cold beef, roast and boiled, French rolls, stout wine, tongue ham, even fowl, if we recollect right, are displayed in tempting array. There is a raised orchestra, and the place is boarded all the way down in patches just wide enough for a country dance. There is no master of ceremonies in this artificial Eden. All is primitive, unreserved, and unstudied. The dust is blinding, the heat insupportable, the company somewhat noisy and in the highest spirits possible. The ladies, in the height of their innocent animation, dancing in the gentlemen's hats. And the gentlemen, promenading the gay and festive scene in the ladies' bonnets or with the more expensive ornaments of false noses and tinderbox looking hats, playing children's drums and accompanied by the ladies on the penny trumpet. The noise of these various instruments, the orchestra, the shouting, the scratches, and the dancing is perfectly bewildering. The dancing itself begs description. Every figure lasts about an hour, and the ladies bounce up and down the middle with a degree of spirit which is quite indescribable. As to the gentlemen, they stamp their feet against the ground every time hands four begins, go down the middle and up again with cigars in their mouths and silk handkerchiefs in their hands. They whirl their partners round, nothing loath, scrambling up and falling and embracing and knocking up against the other couples until they are fairly tired out and can move no longer. The same scene is repeated again and again, slightly varied, by an occasional row, until a late hour at night. And a great many clerks and apprentices find themselves next morning with aching heads, empty pockets, damaged hats, and a very imperfect recollection of how it was they did not get home.

- Country Fair Dance by Charles Dickens